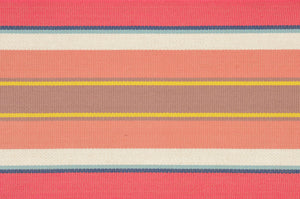 Espadrille fabric 15.5cm/ 6" - Labatut - Tissus Espadrille
Our pricing is in units of centimeters, minimum  order is 50cm
Reminder: 1 meter = 100cm & 1 yard = 92cm


THE # of centimeters (cm) you should enter in your ORDER quantity box:
Multiply the desired # of meters  you wish to order by 100 & input  your result in  the quantity box
Multiply the desired # of yards  you wish to order by 92 & input  your result in  the quantity box
LOST???? Contact us info@maison-basque.com or 416-760-9849
100% cotton, designed and woven in southwest France by Artiga, our stripes reflect joie de vivre and beauty of the local landscapes (ocean, mountains & lush countryside).

This espadrille fabric has been woven on small looms  for 3 centuries with a narrow width to service the espadrille market, a traditional Basque shoe from Southwest France and Northern Spain.
Artiga original designs elevate the look of espadrilles to something fun and trendy. Creative spirits will find lots of uses as trims for all sorts of home décor projects such as curtains, cushions, beddings, area rugs, lamp shades, pouches,  etc... Could also be a fun curtain tie. Have fun with it! While in need for protection and a bit of fun during the pandemic, this trim is perfectly sized  to make facemasks ( buy ours ready made or make them and buy our fabric here). Find in our ON THE GO page cute pouches made out of this fabric.
Best to wash before sewing especially when mixing and sewing with other materials that will have different shrinkage factors.  Espadrille fabric has a high shrinkage factor 15% in the length after 1st wash. Please visit our fabric care page for more information on shrinkage.
---
We Also Recommend