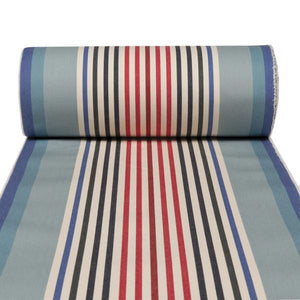 Transat cotton canvas 43cm/17" - Hinx - Toile transat coton
Our pricing is in units of centimeters, minimum order is 50cm
Reminder: 1 meter = 100cm & 1 yard = 92cm
THE # of centimeters (cm) you should enter in your ORDER quantity box:
Multiply the desired # of meters you wish to order by 100 & input  your result in the quantity box
Multiply the desired # of yards  you wish to order by 92 & input  your result in  the quantity box
LOST???? Contact us info@maison-basque.com or 416-760-9849
100% cotton, designed and woven in southwest France by Artiga, our stripes reflect joie de vivre and beauty of the local landscapes (ocean, mountains & lush countryside).
Our fabric is pre-hemmed to easily fit our deck chairs (or replace old deck chair canvas) with attractive stripes and its thickness will support weight. It can be used for many other home décor projects where a narrow width is desired and the ability to mix and match fabrics valued: cushions, custom runners, lampshades, bags, etc. Our transat fabric is 100% cotton which offers a natural give when used on a deck chair, therefore offering optimal comfort, but will progressively fade when left out in the sun. It does take more time to dry than our outdoor fabrics when soaked in rain.
Best to wash before sewing especially when mixing and sewing with other materials that will have different shrinkage factors. Please visit our fabric care page for more information on shrinkage.
For sample orders please fill in our custom request form.
---
We Also Recommend