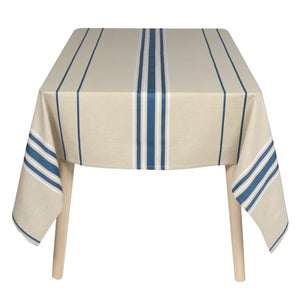 Table Cloth 70% Cotton 30% Linen Corda Metis Petrole
SIZE CHART:
4 people - 176cm x166cm finished, will shrink to about 160cm long after 1st wash
6 people - 220cm x 166cm finished, will shrink to about 200cm long after 1st wash
8 people - 275cm x 166cm finished, will shrink to about 250cm long after 1st wash
10 people - 330cm x 166cm finished, will shrink to about 300cm long after 1st wash
12 people - 385cm x 166cm finished, will shrink to about 350cm long after 1st wash


Beautiful high quality woven linen-cotton tablecloth, with assured elegance. Rediscover the pleasure of the special feel of good quality woven linen and cotton. For special occasions supplement with our matching linen-cotton napkins and bread basket. 
Please note these tablecloths are made to order and can take up to 10 days and are sold larger than the sizes indicated to compensate for the 10% shrinkage from the first wash. Pls use cold water for first wash. Please be sure to check our Fabric Care page for full instructions.
For custom orders specific to your table size, please contact us directly to get a personalized quote.

70% cotton, 30% linen
Sewn in Canada with woven-in-France Artiga fabric
---
We Also Recommend