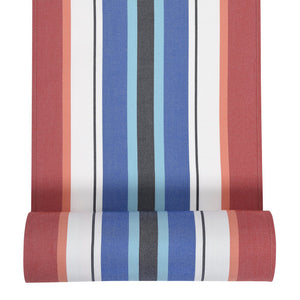 Outdoor canvas for Stool - Bermudes - Toile outdoor pour pliant
Note that this is for outdoor transat pre-cut fabric to fit our folding stool frames which are sold separately.
Highlights
No Maintenance
Light, versatile, and fun
Easy to store
Five year fade and mildew guarantee
Matching chair canvas available
For orders of 2 or more, please contact us to secure your 10% volume discount and reduced shipping costs
Our weaver Artiga designs our OUTDOOR fabric and specifies the top grade quality of Sunbrella France for optimal outdoor use with an unusually soft touch (similar to the one of a natural fiber). Five year fade and mildew resistant guarantee.
Replacement canvas is available through maison-basque if looking for a new look for your existing frame. Our standard canvas  for our folded stool is mounted on 2 dowels which makes it easy to flip or replace when desired.
Dimensions 42 x 44cm


---
We Also Recommend