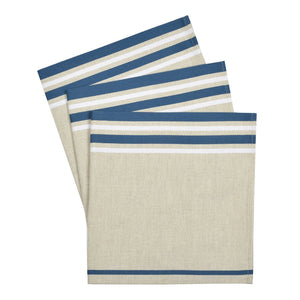 Napkins cotton/linen - Corda M Petrole Blanc - Serviettes coton/lin
These large bold napkins will add elegance and  a splash of colour to your table with most patterns. Rediscover the pleasure of the special feel of good quality cotton and  linen. Sold by the unit. If you find difficult to choose a pattern, mix them up and go for FUN!
We are offering 10% off when buying 6 napkins or more in multiples of 3 (eg 9 , 12, 15 etc...). Reach out before placing your order to claim your discount.
53cmx53cm / 21x21"
30% linen - 70% cotton
Made in Canada with woven-in-France Artiga fabrics
---
We Also Recommend