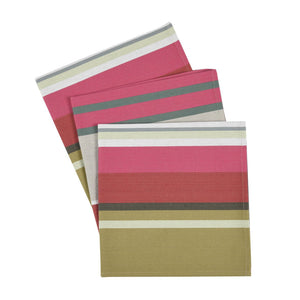 Napkins cotton - Isaba - Serviettes coton
Reach out to get a 20% discount off the regular price when bought in packs of 6 and more ( multiples of 3) on end of collection fabric. 
These bold napkins will add elegance and with most patterns a splash of colour to your table. Rediscover the pleasure of the special feel of good quality natural fabrics. Sold by the unit. Please note that within your pattern of choice we will mix and match from the different stripe options represented in the photo. Three napkins are cut from the width of each roll of fabric to give you the full advantage of the stripe effect.  If you have problems choosing one pattern, do not hesitate mixing them up!
We are offering 10% off when buying 6 napkins or more in multiples of 3 (eg 9 , 12, 15 etc...). Reach out before placing your order to claim your discount.
50cmx50cm / 20x20"
100% woven cotton
Made in Canada with woven-in-France Artiga fabrics
---
We Also Recommend