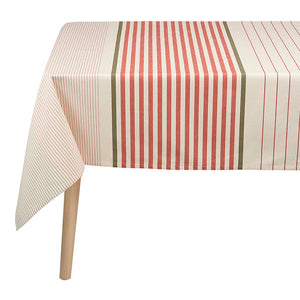 Coated Table Cloth Sauvelade Olive
SIZE CHART:
4 people - 160cm x155cm 
6 people - 200cm x 155cm 
8 people - 250cm x 155cm 
10 people - 300cm x 155cm
12 people - 350cm x 155cm


Beautiful high quality woven cotton tablecloth, coated for easy-care and every day living without compromising on elegance. For special occasions supplement with our matching cotton napkins and bread basket.
Please note these tablecloths are made to order and can take up to 10 days. A simple hand wiping of tablecloth with soap is advised for day to day care. Should you decide to machine wash, expect an approximate 8% shrinkage after first wash. Please review our fabric care section for full instructions. Hemming is done on the 2 short sides, ( unless you request otherwise), other sides are machine cut and will not fray.
For custom orders with different size options, please contact us directly to give us your table dimensions and we will make it happen to have a perfect fit for your table. 

100% woven cotton
Sewn in Canada with woven-in-France Artiga fabric
---
We Also Recommend