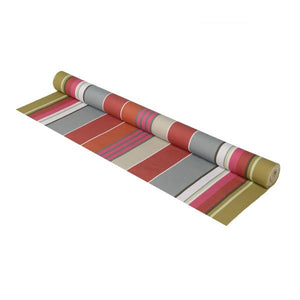 Fabric cotton 160cm/63" - Isaba - Tissus coton
Our pricing is in units of centimeters, minimum  order is 50cm
Reminder: 1 meter = 100cm &  1 yard = 92cm
THE # of centimeters (cm) you should enter in your ORDER quantity box:
Multiply the desired # of meters  you wish to order by 100 & input your result in  the quantity box
Multiply the desired # of yards  you wish to order by 92 & input  your result in  the quantity box
LOST???? Contact us info@maison-basque.com or 416-760-9849
100% cotton, designed and woven in southwest France by Artiga, our stripes reflect joie de vivre and beauty of the local landscapes (ocean, mountains & lush countryside).
Use for indoor décor (think curtains,  bench cushions, throw pillows, slip covers, upholstery, of course table linen and all sorts of creative home deco projects) where a rich touch and longevity are valued after multiple washes.
Note that the weaving technique and style can vary. For instance, some fabrics have a herring bone weave for a different texture, our Garlin line blends three different weaving techniques, and more recently Artiga is introducing organic cotton in its production, all reasons that explains there are slight differences in cost per cm.  Do take into account the shrinkage factor if this fabric or its finished product will be eventually washed. Best to wash before sewing  ( surge before washing!) especially when mixing and sewing with other materials that will have different shrinkage factors.
For sample orders please fill in our custom request form.
---
We Also Recommend