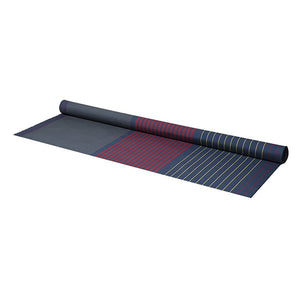 Coated fabric cotton 155cm/61" - Sauvelade Bleu Do - Toile enduite coton
Our pricing is in units of centimeters,  minimum order is 50cm
Reminder: 1 meter = 100cm &  1 yard = 92cm


THE # of centimeters (cm) you should enter in your ORDER quantity box:
Multiply the desired # of meters  you wish to order by 100 & input  your result in  the quantity box
Multiply the desired # of yards  you wish to order by 92 & input  your result in  the quantity box
LOST???? Contact us info@maison-basque.com or 416-760-9849
Gently coated fabrics are very popular in France as they combine easy care and convenience with the elegance and warmth of our fabrics. Use this fabric to make your own table cloths, runners and placemats or choose from our ready made in our AT THE TABLE section. Coated fabric is also valued by our clients to cover cushions or upholster high traffic areas such as dining chairs or bar stools. Our coated fabrics are very easy to maintain, just wipe clean with soap and water, no washing or ironing required. 
Designed and woven in southwest France by Artiga, our stripes reflect joie de vivre and beauty of the local landscapes (ocean, mountains & lush countryside).
Note that the weaving technique and style can vary. For instance, some fabrics have a herring bone weave for a different texture, our Garlin line blends three different weaving techniques and recently Artiga has introduced organic cotton which explains the different costs Do take into account the shrinkage factor if this fabric or its finished product will be washed. Best to wash before sewing especially when mixing and sewing with other materials that will have different shrinkage factors.
For sample orders please fill in our custom request form.
100% cotton, woven and designed by design house Artiga in France.
---
We Also Recommend